IU's Dr. Bruce Lamb to Keynote IHIF Annual Meeting Dinner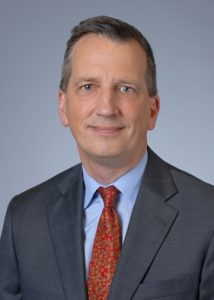 Bruce Lamb, Ph.D., will be the Keynote Speaker at the IHIF 2017 Annual Gala Dinner taking place on September 13 in Indianapolis.  The topic will be "Alzheimer's Research in Indiana".
The 2017 Gala Dinner features a Focus on Alzheimer's Disease, through a partnership with the Alzheimer's Association, Greater Indiana Chapter.
Dr. Lamb's research has focused on the basic disease mechanisms of Alzheimer's disease, including the genetic factors involved in the metabolism and buildup of the protein that makes up the plaque deposits associated with the disease. His work has shed light on how complex mechanisms associated with Alzheimer's have hampered efforts to find effective treatments in clinical trials. His lab also has studied the relationship between traumatic brain injury and Alzheimer's disease.
His work is funded by multiple research grants from the National Institutes of Health, the Department of Defense, the Alzheimer's Association and other foundations and corporations.
BIO
Dr. Lamb received his bachelor's degree from Swarthmore College and his PhD from the University of Pennsylvania prior to a post-doctoral fellowship at Johns Hopkins University. In 1996, Dr. Lamb was recruited to Case Western Reserve University, where he rose from Assistant to Associate Professor. He joined the Cleveland Clinic in 2005 and rose to full Professor in 2011.
In 2016, Dr. Lamb joined the Indiana University School of Medicine as Director of the Stark Neurosciences Research Institute. Dr. Lamb's laboratory works on the basic science of Alzheimer's disease, with a focus on: 1) genetic modifiers identified from mouse and human studies, 2) animal models of Alzheimer's disease (including Director of the NIH-Funded Model Organism Development and Eavluation for Late-onset Alzheimer's Disease program, MODEL-AD), 3) microglia and neuronal-microglial communication in the development and progression of Alzheimer's pathologies; and 4) traumatic brain injury as an environmental modifier for the development of Alzheimer's pathologies.
In addition, Dr. Lamb is actively involved in advocacy for increased research funding for the disease.  Dr. Lamb has received multiple honors including the National Civic Award and the Zaven Khachaturian Lifetime Achievement Award from the Alzheimer's Association and was elected as a Fellow of the American Association for the Advancement of Science.
For more on the Stark Neurosciences Research Institute click here