Indiana's Life Sciences Leadership Reinforced by Billion Dollar Transactions and a $78 Billion Economic Impact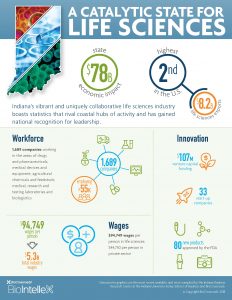 INDIANAPOLIS, Ind., March 7, 2018 —  Indiana's life sciences sector continued to advance as a national leader In 2017.  Over the course of the year, three separate billion-dollar transactions (CoLucid acquisition by Eli Lilly and Co., Catalent acquisition of Cook Pharmica, and Assembly BioSciences' market capitalization) reinforced Indiana's leadership position and underscored life sciences activity in the state. In addition, the economic impact of the state's life sciences industry – comprised of pharmaceutical, medical device and equipment, agbiosciences, research, testing and medical laboratories and biologistics – continues to grow and is now at $78 billion1 (according to data provided to BioCrossroads by the Indiana Business Research Center at the IU Kelley School of Business).
In 2017, Indiana's number of life sciences companies increased slightly to 1,6891 with 55,6881 employees. And Indiana maintained its strong ranking as the second highest exporter of life sciences products in the U.S.1 The average wages for the life sciences sector was $94,7491 per worker, resulting in a life sciences payroll total of $5.3 billion1 for the state.
Research and discovery at Indiana companies stayed strong with 80 new products gaining approval from the U.S. Food and Drug Administration, according to the IBRC.
Source: BioCrossroads