You can use BIO's voter registration tool to make sure you're registered to vote in Indiana, find your current representatives, and learn about the candidates in the upcoming 2020 election. Your vote has never been more important – make sure you are registered and informed!
---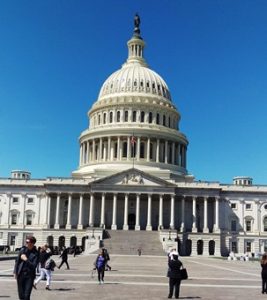 The Indiana Health Industry Forum provides guidance and leadership on public policy issues that contribute to innovation in the health science sector, deliver therapies to patients in need, and further the development and growth of our member companies. IHIF works at the federal and state level and partners with several other organizations and groups to support specific initiatives and legislation.
Some of the Issues We're Following :
Federal and State Response to COVID-19 Pandemic

Supply Chain Repatriation and Management
Research Relief Funding
Strategic National Stockpile 
Support Renewal and Expansion of R&D Tax Credits
Open Immigration Channels for Skilled and Scientific Workers

Opposition to recent Executive Orders Affecting Drug Pricing
Market Access/Trade Agreements/International Engagement

Brexit and the relationship with the UK, FTA Negotiations
Restrictions on US Entry for Chinese Scientists
US Withdraw from the WHO

Health Care Reform
Support HHS/CMS Access to Breakthrough Medical Devices and Diagnostics
Support for Medicare broadly and specifically Part D and Part B
Supporting Changes to Medicare to Allow for Coverage of Cancer Diagnostic Tests
Broad Support for Innovation and Entrepreneurship
The Importance of Modernizing Public Health Data Infrastructure
Building State Telemedicine Infrastructure
State and Federal Measures Around Data Privacy and Security
Dangers of Drug Importation
Dangers of Counterfeit Medicines
Understanding the Value of Medicines
Preservation of the Bayh-Dole Act
Protection of Intellectual Property Rights/Patent Reform
Increasing Clinical Trials Conducted in the State
Support for State Non-discrimination Legislation
Making Sure the Benefits of the 340B Program Accrue to Patients
Support for Public Health Initiatives Addressing Mental Health and Addiction
Contact Your Elected Officials
---
EVENT: Biotech Votes 2020 – Webinar
Sep 14, 2020 1:00PM—2:00PM
Free of Charge – REGISTER HERE
With the elections just weeks away, BIO is providing an in-depth discussion on the political races that matter most, from the top-of-the-ticket, through the Senate and House, and down the ballot to pivotal state races. Attendees will hear analysis on the presidential election, the hurdles between now and election day, "must-pass" legislation, a potential Congressional COVID relief package, and the post-presidential conventions landscape.
Our expert panel will provide additional insight into:
Likely events that might shape the election's final outcome
The policy outlooks under both a second Trump term or a Biden presidency
How the balance of power in Congress may impact those within the biotech industry
How the Covid-19 pandemic has affected the strategies of this year's campaign
---
Our Policy Partners
Become a Member of IHIF
For those companies without a manufacturing presence and which are predominantly interested in public policy issues in Indiana, IHIF is pleased to offer a special $1,000 Advocate Membership rate.  Apply on-line now!
Public Policy Forum
IHIF's Public Policy Forum is an interest group organized to advance the public policy recommendations set forth in IHIF's Roadmap 2020 Strategic Plan.  The Forum provides guidance on the development of IHIF's legislative issues platform.  IHIF Membership is required but Forum participation is open to any employee of an IHIF member company (registration required).