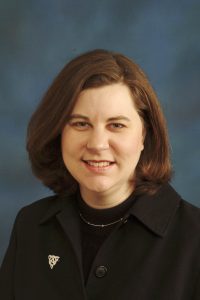 Kristin M. Jones
  President and CEO, Indiana Health Industry Forum
In December 2009, Kristin was appointed President and CEO of the Indiana Health Industry Forum, a not-for-profit trade association representing the state's health science corporations.  IHIF maintains a membership of 150 companies and is a primary networking, advocacy, and strategic planning resource for the sector.  She also spent two and a half years as the Forum's Vice President.
Kristin previously served as the director for business development, life sciences and international affairs, for The Indy Partnership, a regional economic development organization representing an 11-county region in central Indiana.  She was responsible for marketing the region to life science companies and worked closely with the central Indiana BioCrossroads initiative.
Additionally, Kristin spent almost ten years with the Indiana Department of Commerce serving as the director of the Office of International Trade, overseeing the state's export assistance programs and network of 14 foreign offices.  Kristin was also an attraction project manager in the Department of Commerce's Business Development Division.
Kristin is a member of several advisory boards including:  the Indiana District Export Council (DEC), Diversity Accords, and the Indiana Small Business Development Center.  She is a past-chair of the Council of State Bioscience Associations (CSBA).
Kristin is a recipient of the Sagamore of the Wabash – one of the state of Indiana's highest recognitions.  She was selected as a participant in the distinguished European Union Visitors Programme, an initiative intended to familiarize future international leaders with European policies and institutions.  A native of London, Ontario, Canada, she earned her B.A. in French from Indiana University in Bloomington, Indiana in 1990 and in 1992 earned a Master of Public Affairs degree, also from Indiana University.