Since 2008, when the Indiana Health Industry Forum (IHIF) began work on its Asset Mapping and Strategic Planning Initiative, the development of a statewide strategic plan has been envisioned as one that would capture and articulate the needs and interests of the diverse members of Indiana's health science community.
Download Indiana HSS Strategic Plan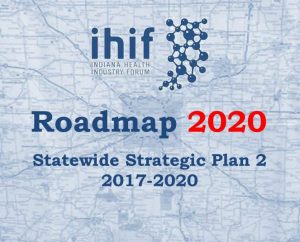 How Do We Want to Get There?
Your Input Drives the Industry
IHIF provides strategic guidance, based on industry input, to help grow Indiana's health science business sector. Roadmap 2020, currently in development, is a three-year plan to guide efforts around Research and Technology Commercialization, Capital Formation, Business Climate, Education and Workforce, and Public Policy.
Following an extensive open suggestion period, teams (Forums) are forming now to further discuss and refine the recommendations and then develop action and implementation plans. IHIF membership is required to participate in a Forum. If you would like to participate, please contact Kristin Jones at info@ihif.org.