Indiana's Cancer Research Sector
Although the incidence of cancer in Indiana is equivalent to national averages, mortality (death rate) is significantly higher and the state's underserved populations suffer the greatest cancer burden.
Indiana Statistics and Data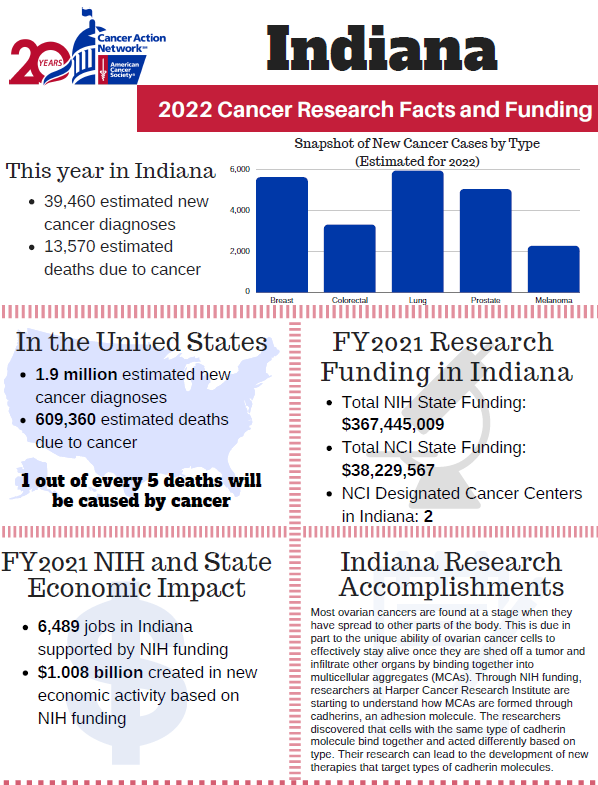 American Cancer Society 2022 Indiana Fact Sheet (.pdf)
NIH Funding
FY2021 Research Funding in Indiana
Total NIH State Funding: $367,445,009
Total NCI State Funding: $38,229,567
Current Cancer Clinical Trials in Indiana (source: ClinicalTrials.gov)
---
Cancer Research Centers – Indiana is home to three university-affiliated cancer research centers. Two of them have NCI designation.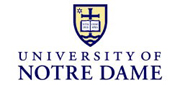 NCI Designated Comprehensive Cancer Center
---
Research Resources
Hoosier Cancer Research Network – https://hoosiercancer.org/ – Hoosier Cancer Research Network, formerly known as Hoosier Oncology Group, is an independent nonprofit contract research organization (CRO) that specializes in early phase multi-center, investigator-initiated oncology clinical trials.
Indiana Cancer Consortium – http://www.indianacancer.org – A statewide network whose mission is to reduce the cancer burden in Indiana.
Susan G. Komen Tissue Bank – http://komentissuebank.iu.edu/ – The Komen Tissue Bank is the only repository in the world for normal breast tissue and matched serum, plasma and DNA.
Walther Cancer Foundation – http://www.walther.org – The Walther Cancer Foundation, Inc. (WCF) is an independent, private grant-making foundation committed to eliminating cancer as a cause of suffering and death through supporting and promoting interdisciplinary and inter-institutional basic laboratory, clinical, and behavioral cancer research.
Catherine Peachey Fund – https://www.heroesfoundation.org/the-catherine-peachey-fund/ – The mission of the Catherine Peachey Fund is to promote advances in breast cancer research and treatment. We provide financial support to research and programs that we believe are best positioned to move from the bench to the clinic. Our combined histories have shaped the goals of the Catherine Peachey Fund.
Horizon Oncology and Research Center – http://www.horizonbioadvance.com – As a proven leader in oncology and hematology services, Horizon Oncology & Research Center delivers top-notch diagnostic and therapeutic options to our patients as well as offering advanced cutting edge treatments that supersede our competitors.